Dental Implants
 Dental implants are a way to replace missing teeth and secure or replace dentures.  They are extremely predictable, and can amazingly improve chewing ability.  Implants can be used to replace one missing tooth, or up to all of someone's teeth.  They can eliminate the need for a conventional bridge, and in some cases eliminate the need for removable dentures. Implants are restored with porcelain to create a beautiful smile. Dr. Sung and Dr. Sheets have been working together for over ten years to create beautiful and long lasting solutions to restore missing teeth.
About Dental Implants
Dental implants are tiny pieces of titanium which are carefully implanted through the gum into the bone of the jaw. The bone bonds to the implant, creating a "root" for the new "tooth". A post is placed on the implant, and a restoration designed to look like your original tooth or teeth is placed on the post. The result is a smile that looks, feels, and functions just like the tooth or teeth it replaced.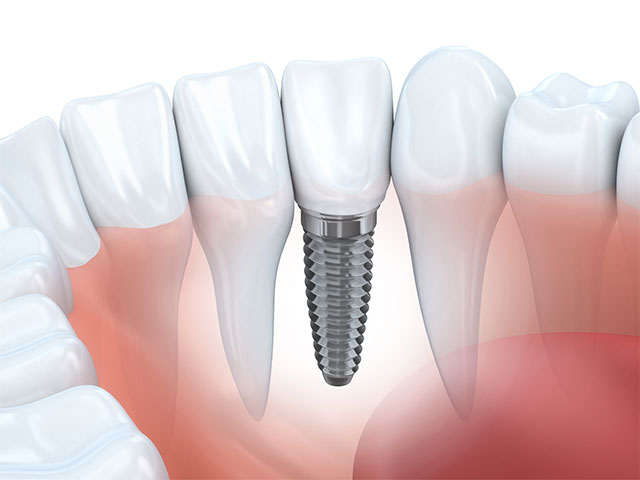 Dental implants are an ideal tooth replacement option in terms of comfort, beauty, and health. Schedule an implant consultation today!
Candidates for Dental Implants
Dental implants are often the longest lasting, most satisfactory solution for patients who have lost one or more teeth and require a restoration. The implant can be used to replace a single tooth, or to act as a support for a partial denture or bridge, replacing several teeth.
Dental Implant Benefits
Dental implants are the new standard of care for tooth replacement, often having several advantages over a traditional tooth supported bridge or traditional dentures.  If missing a single tooth, an implant can be inserted into the space without having to shape the adjacent teeth.  They provide stability for dentures, ensuring more secure chewing and speaking function.  Implants can even replace dentures completely, and if properly maintained can last the rest of the patient's life.
Getting a Dental Implant
The dental implant process may be embarked upon immediately if the gums and bone are healthy. However, in some cases a bone graft may be first needed to provide proper support for the implant.
Once the jawbone and gum health are sufficiently established, the placement of dental implants involves two surgical procedures. First, the implant is carefully placed in the bone, using a CT scan to guide the dentist for the most accurate placement. One or more implants may be placed depending on how many teeth are missing.
The gums will be allowed to heal completely (3-6 months) while the implants bond with the bone. Second, the implant will be uncovered, the post attached, and the restoration placed on top of the post.
Most dental implant patients experience little or no disruptions to everyday activities. Your dental implant can last the rest of your life if properly maintained and all your subsequent dental appointments are kept. You can brush or floss around the implant as you would your natural tooth to keep the adjacent teeth and gums healthy.
Please call our San Pedro dental office at 310-832-2657 and schedule a consultation if you think you might be a candidate for dental implants.