Porcelain Veneers
Porcelain veneers are thin pieces of porcelain bonded to the front teeth which allow us to change their shape, size, and color to create a beautiful, dazzling smile.  They are strong and durable, stain resistant and often longer lasting when compared to composite veneers. Visit our smile gallery to view actual patient that Dr. Sheets has designed smiles for.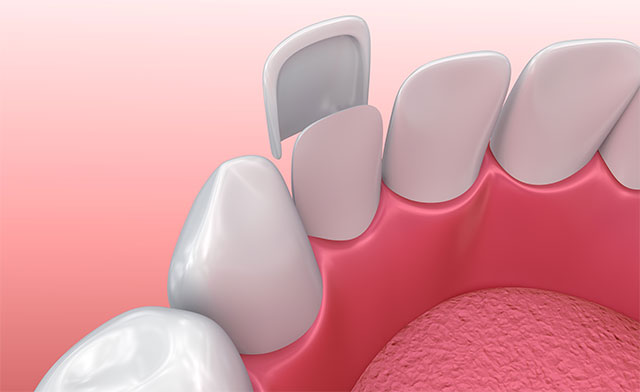 Dental veneers are flawless and customizable, allowing you to achieve your ideal smile in just a few visits!
Porcelain veneers are highly resistant to permanent staining from coffee, tea, or even cigarette smoking. Veneers can instantly correct many of the things patients like least about their front teeth, including chips, stains, gaps, crookedness or unevenness.
The process for having veneers made and applied is simple. A mold will be taken of your existing teeth on the first visit, and the veneers will then be manufactured in a lab to create wafer thin shells that are smooth, and which reflect light similarly to your natural enamel.
Your teeth will be prepared by removing a nearly invisible layer of enamel and roughening the surface so that the veneers can be securely bonded. Most patients experience little or no discomfort during the procedure.
Porcelain veneers can provide you with the white, straight, natural looking smile you have always desired, and are one of the most conservative restorations that affect the entire smile.
Please call our San Pedro dental office at 310-832-2657 and schedule an appointment if you think porcelain veneers might be right for you.