Preventive Dentistry
Regular cleaning and examinations can prevent most dental and oral health issues before they have a chance to become established. Preventive dentistry combined with a regular at home oral hygiene program is the best tool for avoiding serious dental problems.
Regular Exams and Cleanings
You should be seen by your dentist at least twice a year for preventive care. A regular exam will include checking your teeth and gums for signs of disease or decay, taking any needed x-rays, thoroughly cleaning your teeth, demonstrating proper brushing and flossing techniques, and going over any questions you may have.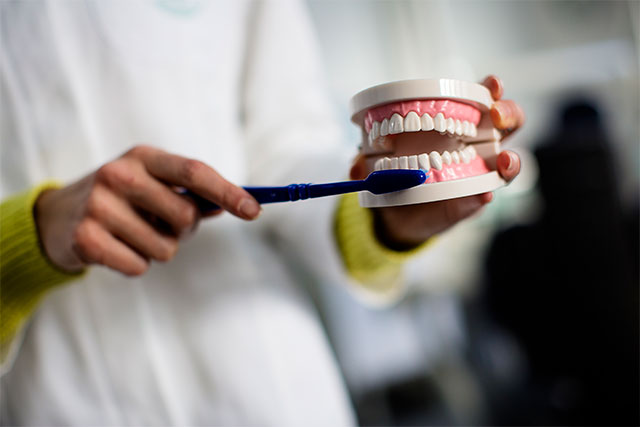 The best way to recover from a dental ailment is to never have it in the first place. Come to our office for thorough, compassionate preventive care.
Digital radiography is a form of x-ray imaging using sensors instead of traditional photographic film.  There are many advantages of using this state-of-the-art imaging including:
Reducing  patient exposure to radiation by 90%.  Many patients are very relieved that digital radiology significantly lowers the amount of radiation they will receive.
Enhanced diagnostic value for better detection of disease.  It is very easy to enlarge, enhance or refine the x-ray images, giving Dr. Sheets and Dr. Sung the ability to see disease processes in their earliest state, thereby often reducing treatment needs.
No chemical processing of x-ray films, eliminating the environmental impact associated with disposal of these hazardous wastes, and their odors.
Increased communication with patients as well as with other practitioners for better and faster collaboration.
Oral cancer screenings are a routine part of Dr. Sheet's dental examinations. Regular check-ups, including an examination of the entire mouth, are essential for the early detection of cancerous and precancerous conditions. Oral cancer often starts as a tiny, unnoticed white or red spot or sore anywhere in the mouth. It can affect any area of the oral cavity including the lips, gum tissue, cheek lining, tongue and the hard or soft palate.
Although most spots which may appear over the years will prove to be harmless, and can be attributed to a clear cause, unidentified spots could be an early sign of a problem. If Dr. Sheets notices a lesion that does not have a clear cause, she may perform a brush test to collect cells from the suspicious area. The cells will be sent to a laboratory for analysis, and if pre-cancerous cells are found, Dr. Sheets will work with you to determine the most efficient treatment.
At Home Oral Hygiene
Our hygienists are always eager to demonstrate appropriate brushing and flossing techniques, to talk to you about the best products to use at home, and to answer any questions you may have about your oral health. Brushing and flossing twice a day can improve your breath, keep bacteria and plaque from taking hold, and decrease your chances of infection, disease, or decay.
Please call our San Pedro dental office at 310-832-2657 and schedule an appointment for a cleaning, examination or screening.